Sponsor a child for $50/month
This provides basic care for the children including food and schooling.
**The Kenya Dream Centre rescued children require more sponsorship because each child requires 24-hour care from our professional caregivers, housing, healthcare, medication, schooling and more.
Rwanda: Chelsea Mugisha
Needs $50/month
Age: 12
Chelsea's mom passed away when he was young.  A neighbor took him and his brother in as her own.  He is very malnourished, so looks much younger than he is.  He also would like to attend school.
Rwanda: Sharif Mbabazi
Needs $50/month
Age: 5
Sharif and her family are part of the local feeding program at the Buhoro location. Without this feeding program, she is lucky if she gets to eat even once a week. Sharif lives with her mum who struggles to provide for Sharif and her sister. She loves to make friends and loves people!
Kenya: Jakes Kamau
Needs $50/month
Age: 11
Jakes is a very joyous, loving, and active young boy. He will help out wherever he can in school or at home. He works very hard on his grades and excels at science and social studies. Jakes one day hopes to become a Mechanical Engineer. He is focusing hard on his future and wants to make the world a better place for all of his teachers and friends.
Rwanda: Jean Marie Muganga
Needs $50/month
Age: 5
Jean Marie was left as an orphan when his mother and father died of HIV. Thankfully, Jean Marie has no signs of being a carrier of HIV. When Jean Marie is older, he would like to become a Pastor and lead people to Jesus. He is looking forward to attending school soon!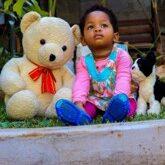 Kenya: Celine Candace Zawadi
Needs $125/month
Age: 1
Celine Candace was abandoned near the police station. She was only about 1 day old when she was found. Her name means 'Heaven' and 'pure and innocent'. We are so excited to see who Celine grows up to be!
Rwanda: Divine Benetha Ishimwe
Needs $50/month
Age: 4
Divine was found as a baby. Local authorities asked her present guardian to keep Divine because her parents have not been found. The guardian family finds it difficult to supply her needs and send her to school. Divine is a beautiful girl with a lovely smile. She dreams of becoming a teacher.
Find out more...
Home of Hope Director, Brian Thomson, was the first to start sponsoring a child in Rwanda. When he was there in 2006, he met a mother who was dying of AIDS and her four children were going to be homeless and left to fend for themselves... [READ MORE]